This is the reissue of the Converge apex LP, 'Jane Doe' on Deathwish/Equal Vision. I recieved this last week after a good three or four months of waiting. Totally disregarding anything that I have said about this band on this blog in the past, if you can't, or won't recognise the relevance of this LP, then you're a fucken dick head. I doubt that I need to go into any kind of detail about the nuances and perfection of Jane Doe, let's just say, it's most likely the sole reason that I listen to nearly all of the music that I do these days. Perhaps the most important album for me in terms of plain, simple influence. This is the second rarest colourway,
gold
of 440. Only the red/gold swirl of 150 is harder to find. Happy with that, I guess I got in early.
Gatefold sleeve, double LP.
Back.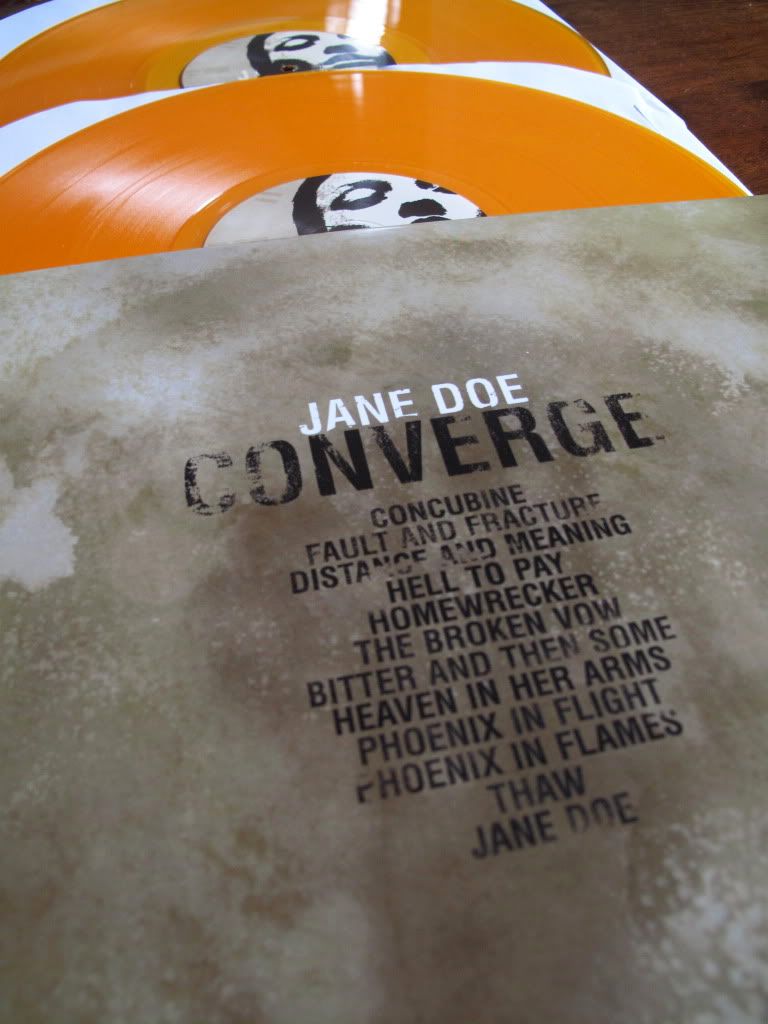 Came with this large, full colour, glossy booklet. I haven't actually looked at my CD version of this album for more than five years probably, but if my memory hasn't gone to shit just yet, I think it's safe to say that it's almost the exact same thing as the CD booklet, obviously on a larger scale.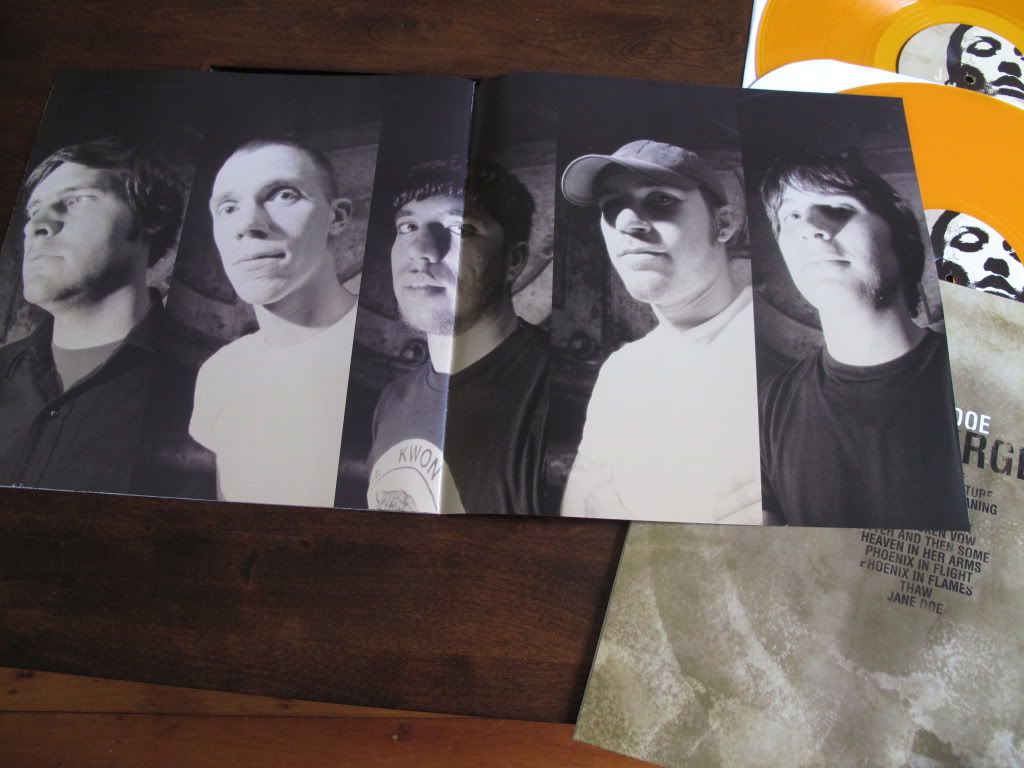 This is the point where I start to enjoy this post more. I like doing shit like this. On the left we've got a copy of the LP on black from the OG press from 2001. Back then the band were on Equal Vision, and Deathwish was still in more or less, an embryonic state. EV took sole care of this version. Notice the differences in the cover. I paid something like $60AU on eBay for it in 2004. If you know anything about record collecting (even if you're not a fan of the band), you know that there are three other colourways in the OG press that sell for a shit tonne more. Even these days I see black go for something around $90 regularly.
Back. Take note of more differences.
I'd say that you could put the slight variations between the two presses layouts down to the fact that the band aren't keen on seeing eBayists attempting to flip this new press in the coming months as an OG version. Makes sense.
Something that my photos can't show is how much better quality the sleeve is with this new version. Thicker, stiffer and it just generally feels more sturdy. This new press is also on heavier 180g wax. More differences in the matrix stickers as you can see too. Another thing that I have certainly noticed in just the last three years is the dwindling rate of bands actually having hand etched messages scribed onto the matrix of their records. Thank plants like pirates press for that. I'm loving the fact that the band have actually gone to the trouble of hand etching various messages with this LP. Certainly adds to that nice little touch.
To sum it up, I won't go into much more heavy detail, I've said enough with the rest of this post, but this reissue is spot on perfect, and now there is no reason for any Converge head not to have this a part of their record collection. Very happy with this.