Another record amid this current little run of releases that Ireland's Drainland seem to have going at the moment. This time a split 7" with Enabler from Milwaukee. A split release between Halo Of Flies and De Graanrepubliek. Black vinyl of 500 copies total.
One track from Drainland, "The Coldest Ward", here they've presented a +5 minute number that's constructed for the most part around a slow to mid paced tempo. Meandering riffs, the odd inclusion of noise, and a new experiment from the band- some female vocals. I'm not really a big fan of lady screams generally, but here they seem to work alright, most likely because this woman in particular has a relatively burly style anyway. Not wailing or anything like that, neither does she scream in a hoarse style. Just seems to yell, and while doing so, comes off sounding pretty tough anyway.
Two songs from Enabler- "Drop Out" and "Fuck Today". Having never really paid any kind of attention to this band beforehand, I'd obviously struggle to compare it to previous material. There's similarities to some of Drainland's stuff though; heavy, down tuned hardcore with a somewhat clean recording style. These guys utilise striking leads and noodly, Converge esque fret-work a bit more though and obviously take more influence from certain disciplines of metal and grindcore. These guys are currently preparing a release for Southern Lord Records and subsequently are experiencing a bit of hype at the moment, but I can't say that I am crazy about either of these songs. Just seems like standard fare metallic hardcore, the kind that Trap Them seem to be popularising currently. Take it or leave it I guess.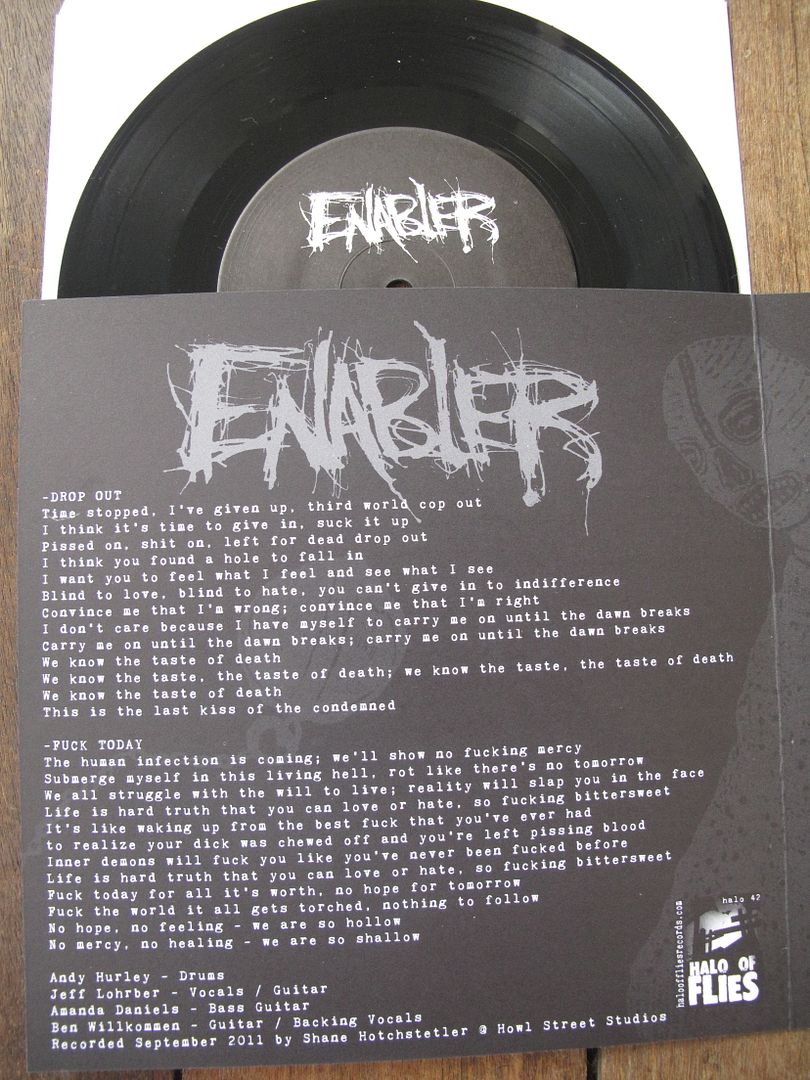 I can't say that this split will go down in my mind as an overly memorable release. As I mentioned, I'm not crazy about Enabler's contribution, and my attention span has been ruined from years of listening to fast and short hardcore songs, so consequently the Drainland song goes a little neglected. I'm digging the artwork though.
Drainland have yet another split with countrymen, Crows due next month and I've been lucky enough to have been gifted with a digital version of Drainland's side and I can safely say that the songs are a good bit more interesting (to me anyway). I should be able to post about that 7" some time before the end of March.