Ringworm are in town as part of their national Australian tour and I managed to see them a couple of nights ago in a warehouse that fits only 150 people. It was quite an experience. They played "Numb/Blind To Faith" and it made my night. They're making their way around with Australia's premier exponents of metallic hardcore mayhem, Mindsnare. This is the second time the bands have made this tour and to help celebrate, each group has produced two songs each to contribute to this new split 7". From what I saw at the merch table, two alternate colours have been pressed, this clear/
off green
(
coke bottle
?) variant, and a purple version that I didn't bother grabbing. Probably should have bought that one too, but I'm trying to cut down on unessential wax purchases. Blame Dom and A389 Records and our own Graham at Resist Records for this one.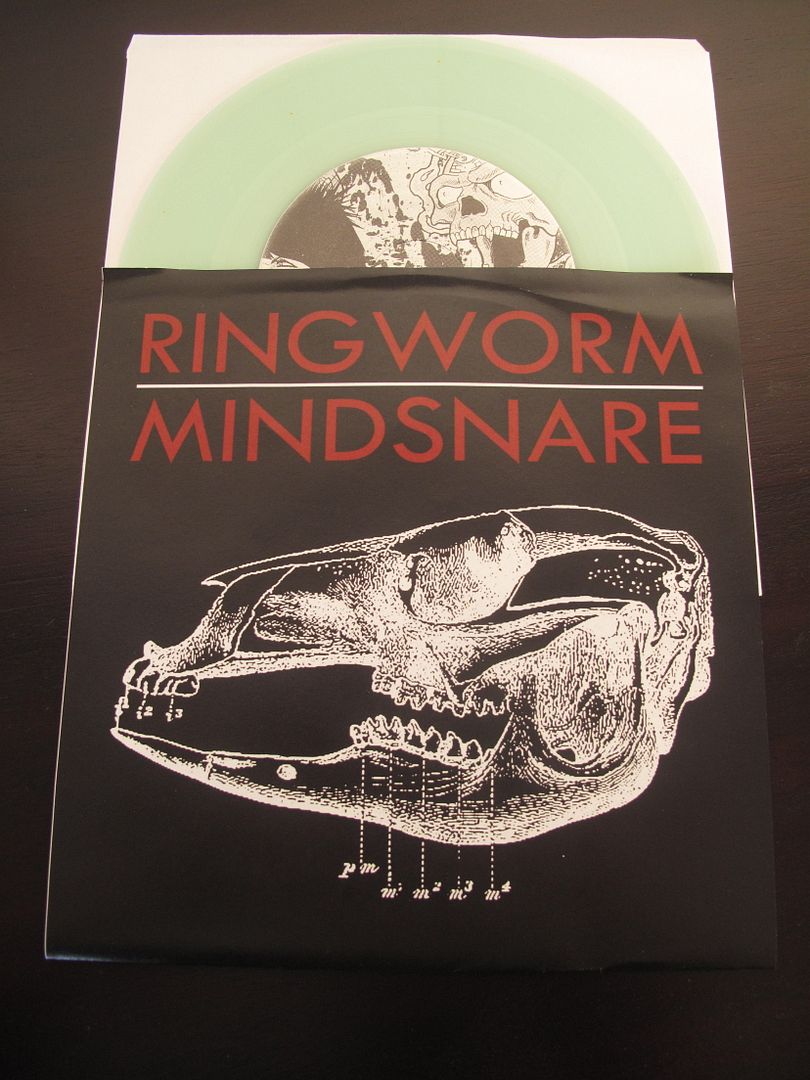 So this cover is a tour version with the official version to be released soon via each label. 160 copies only for tour, Dom said on the A389 website that the only reason it happened like this is because the proper covers weren't ready in time for these shows. I suspect that the real version will be launched in the coming fortnight with the new A389 update.
Each label has their logo on the sleeve, but up until this point I was totally unaware that Resist had anything to do with this record as Graham hasn't uttered a word anywhere of his involvement. Dom has been talking it up for more than six months on the other hand though, so I kind of thought it would just be an A389 deal. I little naive though I guess, Resist has fingers in every pie.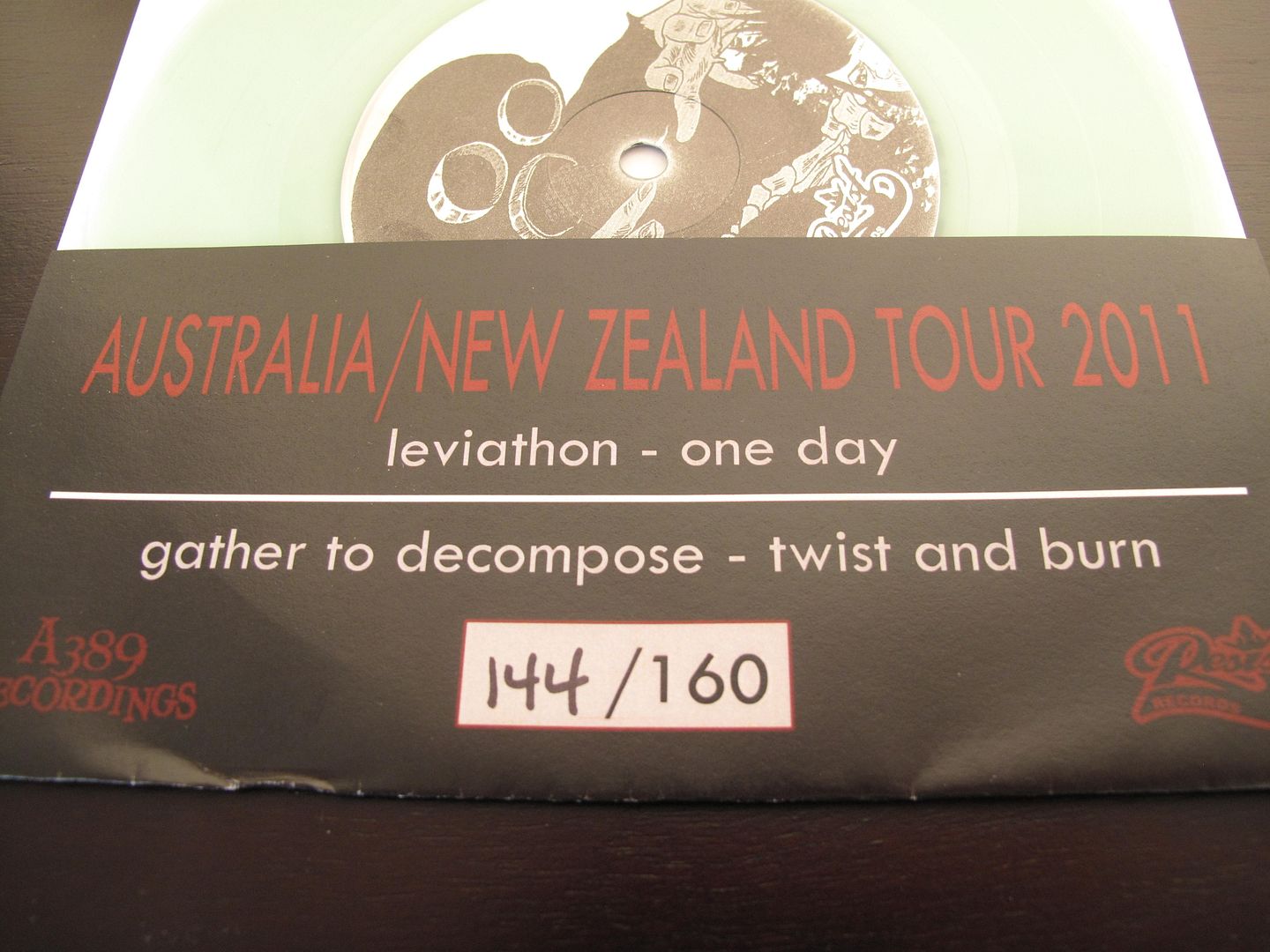 So as I mentioned, two songs from each band, all of which would be considered reasonably standard fare respectively. The Ringworm numbers are both fast metallic pieces with the obvious crunch and metal leads. The production is noticeably cleaner sounding than anything on the new album too, so I suspect this was recorded in a separate session. I remember reading somewhere that this record was due earlier in the year but was delayed so Ringworm could record the new LP, so it's more than likely that these songs were committed to analogue before the stuff on "Scars".
From what I can gather, Mindsnare originally recorded three songs during the sessions for this release, two of which have seen a release here, the third seeing the light of day via that annual digital compilation that A389 did earlier this year. With a sigh of relief, these songs see the band returning to that iconic metallic crunch typified on their 2004 LP "The Death". To be honest, I believe that the pick of the lot is the song on the compilation, "Final Call", as opposed to the two included on the wax, but all three are mainstay 'Snare numbers and manage to cast a massive shadow over the entire Australian hardcore scene.
I've never had a proper chance to post about Mindsnare vinyl on this blog, it's been that long since their last release, so I've never had the opportunity to test the waters on what non Australians think about these guys. As a result I am rather curious. In my opinion (and it's the opinion of just about every single other Australian hardcore fan, no matter what little sub scene they like to associate with), this is world class hardcore, and I've always been curious as to why these guys haven't managed to create more waves abroad. Everything about this band is totally on point, I can't see why people in America or anywhere else for that matter wouldn't love them. Perhaps I'm not seeing the bigger picture though, Human Furnace did manage to sing every word to just about every song for the entire set. Maybe everyone knows about them? For the uninitiated, get your hands on "Hanged, Chocked, Wrists Slit", "The Death", the s/t 7" (otherwise known as the Gasman 7"), and perhaps on a lesser note, their LP from 2007 "Disturb The Hive". The latter was good, but was botched by a less chunky mix and master, and in the long run it just hasn't translated to that 'classic' status of the other mentioned releases.
Here's a vid from their opening with "Bulldozed" from the other night. Iconic Australian song.