Back in late April/early May I posted about a promo tape that Boston's Soul Swallower had just released. That was a preview of this new s/t LP of theirs. As most of you would know this was part of the latest batch of releases that Painkiller Records just recently launched. As with the Brutal Supremacy Comp, I was hopeful that I'd get the limited colour of this (white), but it looks like I just missed by a bee's dick. Bummer. Black vinyl, again of an unknown amount, probably something around 800. I can't imagine they would have pressed more, especially since the last time they did an LP of this nature in the form of the Breathing Fire LP, they reportedly had trouble moving a large percentage of the press. Learn from your mistakes.
I think when this LP was originally announced on the Mind Eraser blog in September last year alot of people were surprised. After the original 7" from 2005/06 not much else happened in the Soul Swallower camp. I don't think they bothered with many shows, and obviously the members were otherwise occupied with their many other musical projects. Well it seems that they're doing at least a few shows this year so perhaps they're making more time for the band, and maybe they plan to write some fresh stuff, who knows. As some may have heard, most of the material here is older stuff that was written around the same time of the release of the 7".
So I have mentioned it before, but this is basically Mind Eraser rearranged. Well kind of, DFJ and Brendan just swapped duties. No listed Bass player though, but I wouldn't be surprised if Carms fills in on the live front. Where this differs to most ME stuff immediately noticeable is the obvious vocal duty arrangement. Brendan's higher end is vastly different to the approach of DFJ obviously, so that's one thing that changes it up a bit. CC experiments with alot of different fret work too. I've heard these guys compared t alot of 80's thrash/death metal and the like (Sodom, Venom etc) and I guess to an extent that comparison rings through here and there. Alot of tremolo riffing, and a good proportion of crazy picked leads for good measure. Initial impressions though might lead one to believe that this could more or less just be ME left overs (or vice versa depending on how you look at it), and I mean really, especially with alot of the later ME material in mind, this could well be.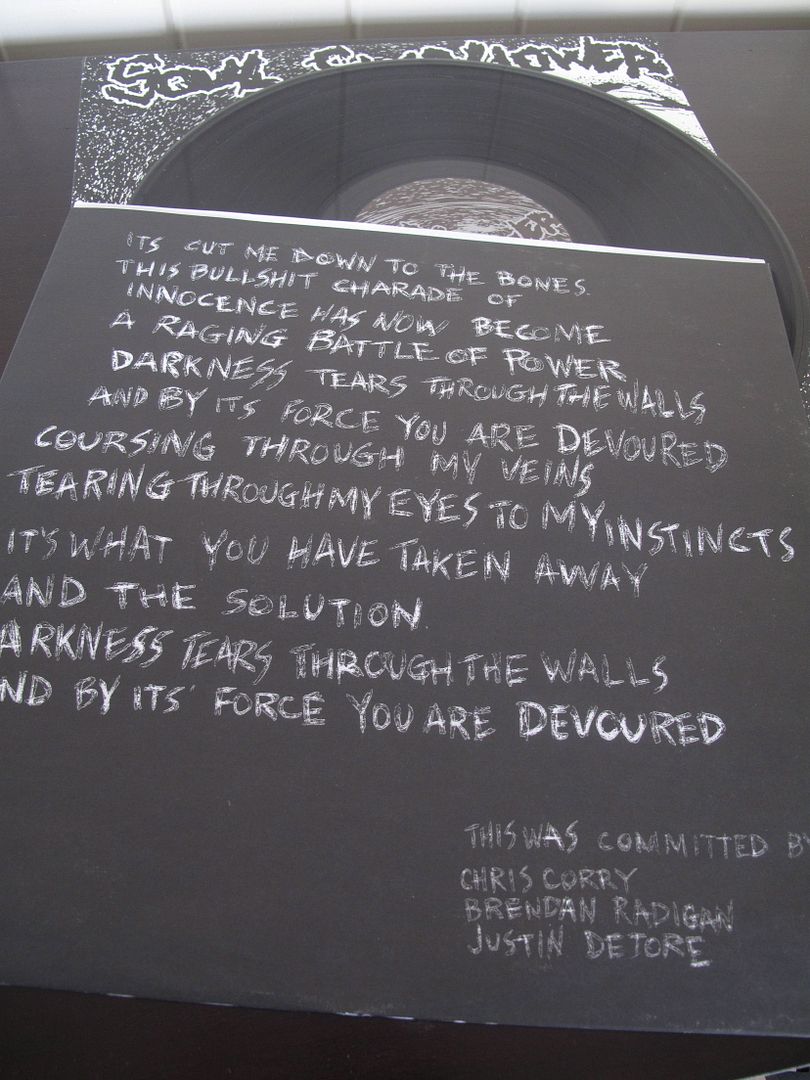 Who knows whether this band will do more, this was certainly a surprise for quite a few. My only concern if this band were to become a little more 'active' would be if Mind Eraser output were to suffer as a result, as we all know I like that band quite a bit. It's been too long since they did a good full length (and I don't count "C/Uc", that was just two songs.