Pretty sure most people who read this blog regularly or who know me know how fond I am of Get Destroyed from Arizona/California. Heavy PV is the order here and this is their massively delayed third 7" EP, "Shut In". For reasons I don't know it's been a good six months or more that this record has been waiting to get pressed. White vinyl limited to 100 copies, there's also a more common press on black wax. A handful of influential labels have had a hand in getting this pressed. Chalk it up to Give Praise Records, 625 Thrash, To Live A Lie Records and RSR. All great labels in their own right, I am curious as to why it takes four separate groups to press one 7". All four labels regularly press their own records, so I doubt it's a finance issue. Maybe I'm not the only one who thinks this band fucking rules, and they all just wanted a hand in it.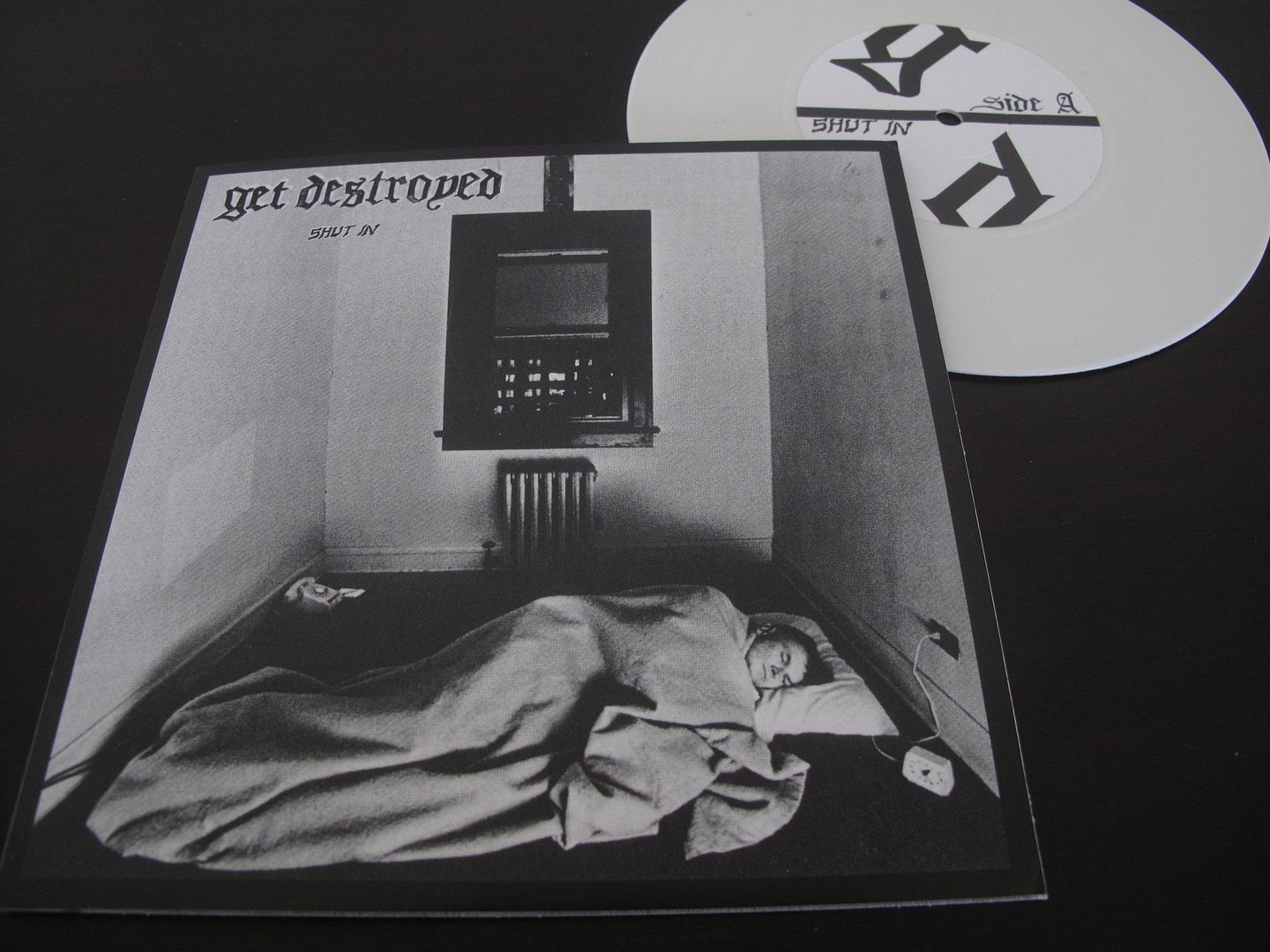 Out of the current crop of current Northern American PV influenced bands doing the rounds at the moment (and there is quite a few of them, alot of which I have posted about on this blog in the last twelve months), these guys and Scapegoat remain at the top of my favourites list. Blatant Crossed Out and No Comment comparisons aside, this is just straight forward, no bullshit hardcore. What sets these guys apart from alot of their peers is their unique ability to write some really original structures. Their fast bits are just that; FAST bits, not really that much to it, but they get really creative with the obligatory slow parts too. I'm no music 'reviewer' so I won't use stupidly arrogant words to describe what I mean, nor am I that good at really purveying what I am talking about on a base level, so it's hard for me to describe well. They just seem to be good at making shit sound INTERESTING, a feat that evidently seems to be getting harder and harder to achieve for most bands who take a stab at this genre as time rolls by.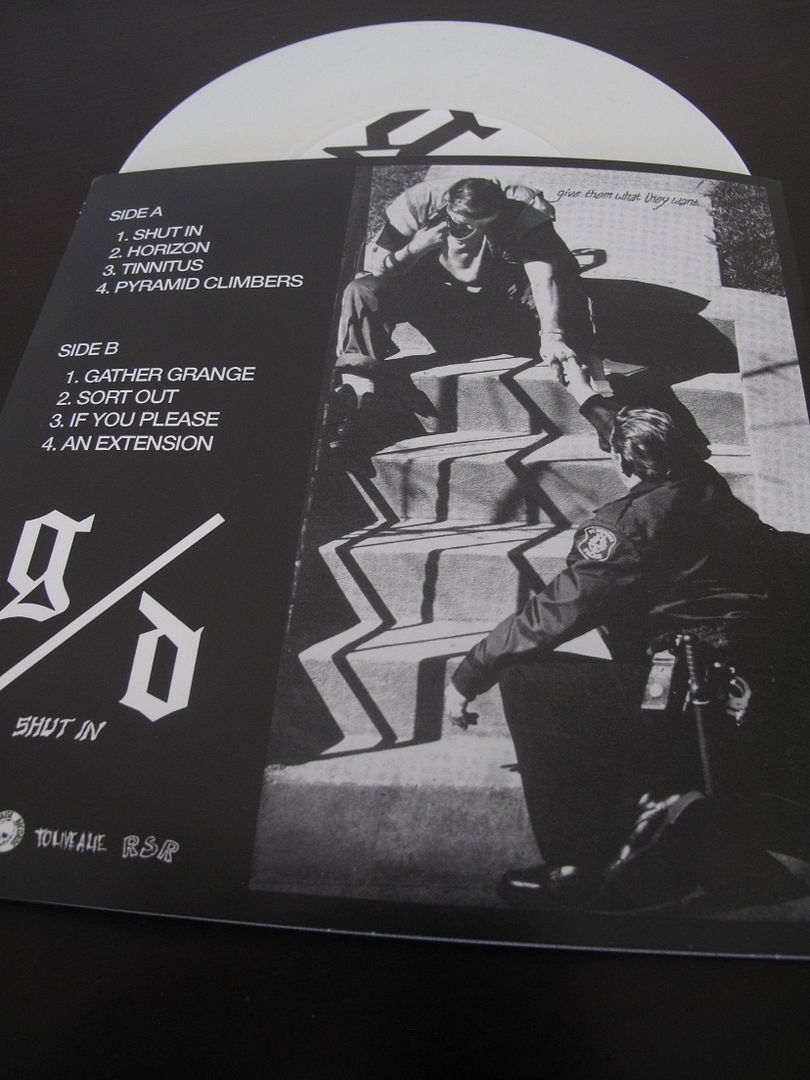 Now with all of that praise in mind, I will be honest in saying that I did enjoy their previous 7", "Burnt Offerings" a little more than this. Those creative slow bits that I spoke about were a little more frequent. The recording qualities on said record were also noticeably rougher. Here there's less grime and slime, and the guitar tone is obviously a little heavier/downtuned (not sure if I am using the right terms, like I am no reviewer, I am also no guitarist). It's possible that the recording here just allows the guitar tune to really shine through properly though, but it's certainly the first thing I noticed when I laid this EP down on the turn table and gave it it's first spin.
With each release the guys have gradually experimented and progressed though different vocal approaches. Ben's main vocal stylings have always been the base through all three EP's, but with each one they've always thrown in different little touches here and there too. On "Burnt Offerings" it was the very Alex Hughes styled closed mouth vocal delivery. At one point I actually thought it was the Hatred Surge main man conspiring with the band, but when I
interviewed
Nik he informed me it was just a style that Ben tried out where he cups his hands over the mic ball and his mouth. One of the most most noticeable additions that you will probably hear with this EP is the really low, chesty, almost grunted vocal stylings that are thrown in a few times. It's reminiscent of some more obscure MITB stuff and it pops up on a couple songs. The other big one is the inclusion of some female vocals in a few places. These are the pipes of Grace Perry of Arizona local grind heathens Landmine Marathon. It's a welcome, tastefully applied touch that doesn't at all get annoying like some female vocals sometimes can.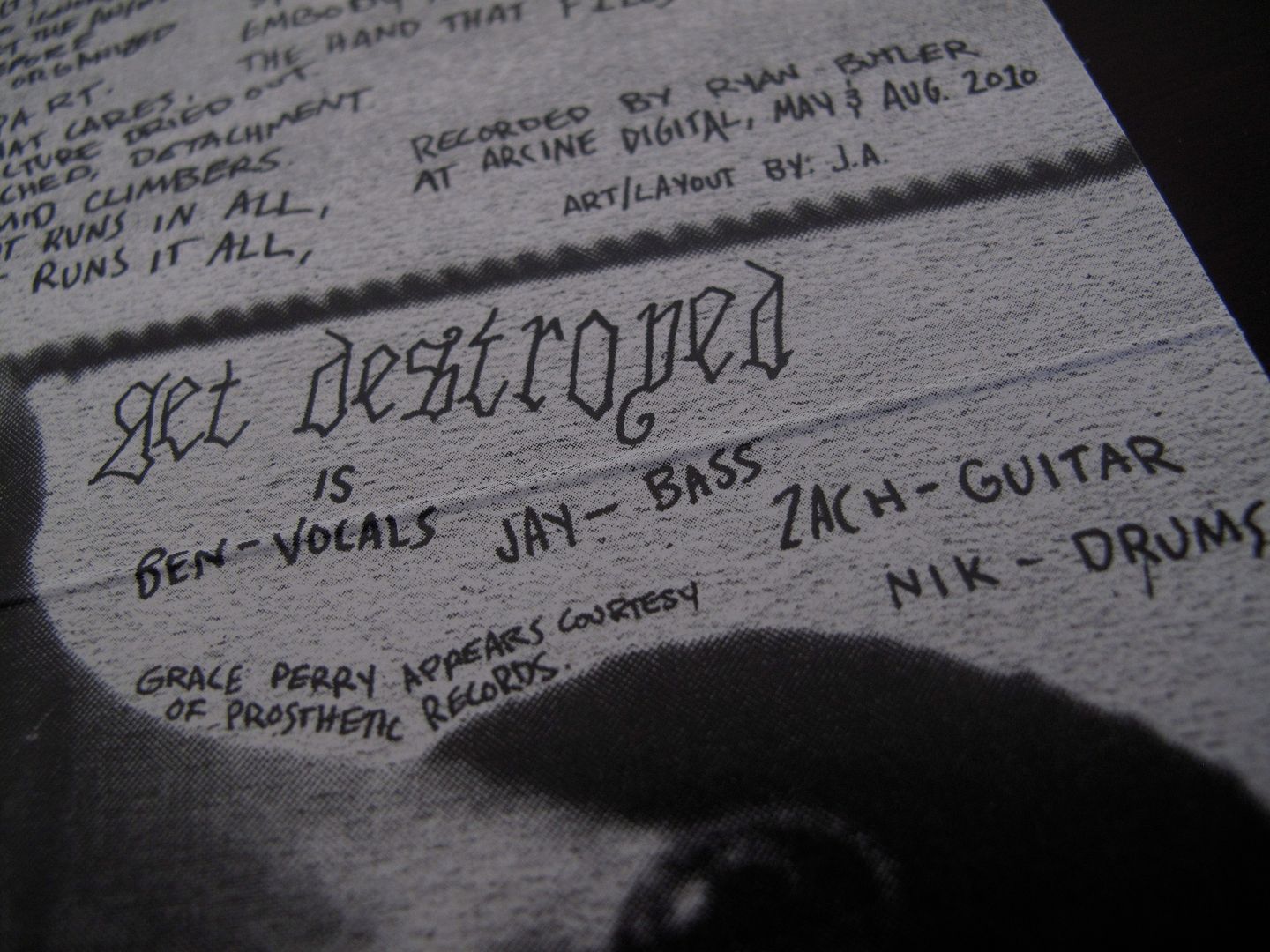 Over the years this band has broken up only to reform a few times from what I can tell. This more or less comes as part of Nik moving out to San Diego or somewhere similar to study and the rest of them staying in Arizona I think. After the second EP they said they were done, then this new release was announced, only to be delayed for ages like I mentioned. Now in the last few weeks they have gone on record to say that they've written a handful of new songs that they hope to have included on a brand new LP next year. I shat when I read that. I hope it happens.