I doubt very much at this point that pretty much anyone at least semi attached to or even familiar with the wider international hardcore/punk scene hasn't heard of this LP and the absolutely ludicrous hype that it's developed over the last few weeks. I speak of course about the debut LP "Primitive" from Boston Strangler. My copy is on black vinyl, pressed by Fun With Smack Records, the label run by one of the guys from Free Spirit, from what I have heard. From pictures I have seen about three other colours were also pressed, amongst a run of something like 1000 copies (maybe?).
So I'll do a basic run down for those not in the know about the situation. Fun With Smack have no official website, online store, or internet presence what so ever. All the records pressed have been gradually distributed out to various label's online stores for the past fortnight in what seems like reasonably limited amounts each time. Every time a label lists their new stock, it all sells out within a minute or less. I picked my copy up about two weeks ago from the Sorry State Records webstore in the exact same situation. I just managed to get lucky I suppose. I feel a little silly to be honest, I don't even think this thing is
that
good. I mean, in terms of a punchy, powerful hardcore record, this will certainly make the top ten for the year, but there is no way that I rate this as high as many of it's contemporaries from the last 12 months at all.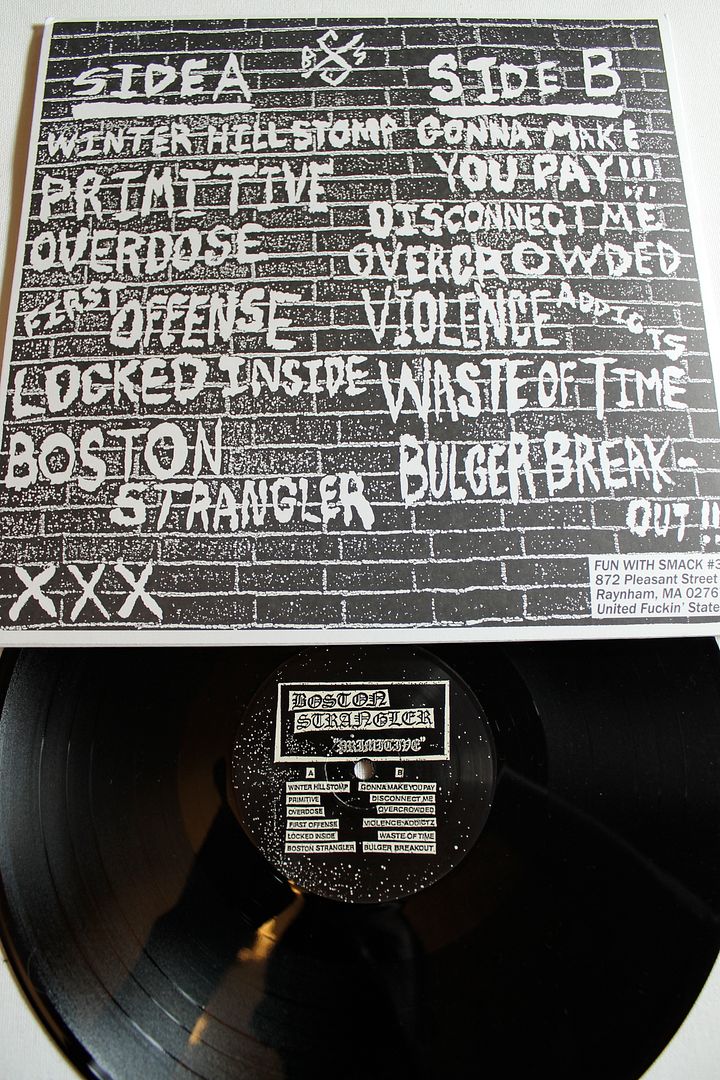 I originally posted about this band at the end of 2010 when I spoke about their demo tape "Outcast". Now that was a good demo. Coursing much a similar vein to this album in terms of approach, but with a really cool, old sounding recording. That's what I am really missing here. With "Primitive" they've presented a very tight quality sounding record almost like a big budget studio sounding job, in comparison to the mentioned demo anyway.