I don't think that there is a single Apartment 213 record that I dislike. Sure, some stuff is shit hot, some is not as shit hot, but none of it makes me cringe, and that's a good feat for any band these days. This split does nothing to detract from that sentiment at all. This is the new split 7" between that aforementioned Cleveland PV wrecking ball and another group whom I hadn't heard of until now, Nothing Is Over from Philly. Black plastic, and a split release between Give Praise Records and Sit And Spin Records.
Both bands play tried and true power violence akin to the greats like Crossed Out and the better MITB. Apt. 213 in particular with this record churn out three mid paced flegms (plus a non musical intro) that experiment heavily with blast beats and odd tempo changes. The mix is good, though the bass is quite high in there. Nothing Is Over play a very similar style, though there's a few more little quirks in the vocals here and there. The mix is also a bit rougher. It's fucking cool though.
Creatures have been on a steady and gradual decline since the release of their first 7" back in 2008 and this new single is the proof I guess. Last years LP was good, but far from memorable, and these two new songs here are just boring. The production sucks too. This is a three way split release between Hellfish, Closed Casket Activities and the band themselves. 300 copies were pressed on clear and each affiliate got 100 copies each to sell off.
This is one of the 'Spreading' covers of 100, hand numbered #58 obviously. Their were also 100 'Salvation' covers and 100 'Sickness' covers. I haven't seen either of the other two editions, but from what I can gather, where this one is green, each other version has a different coloured sleeve. All 300 covers are this terrible triangle shape too I think, what were they thinking?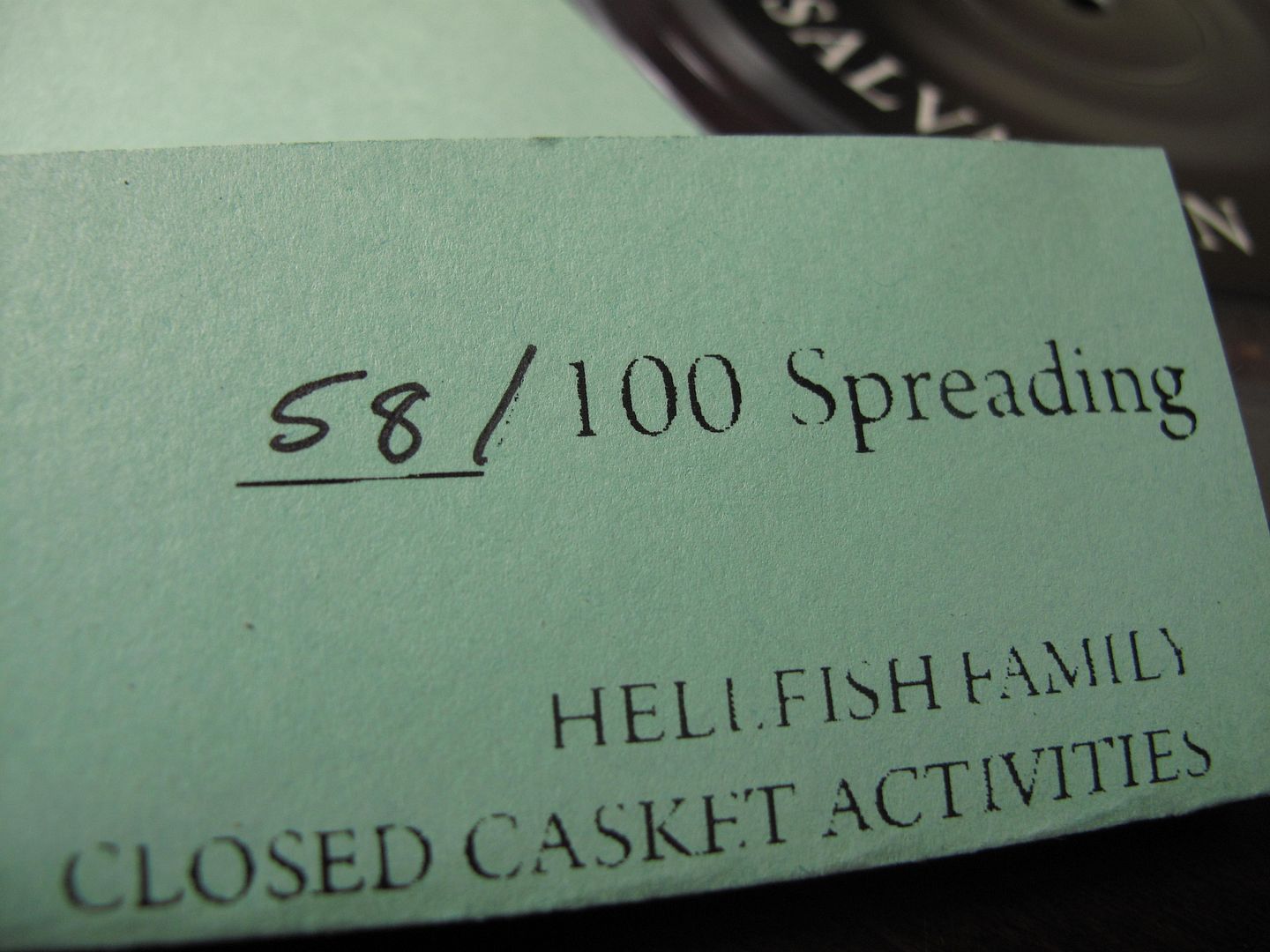 It's a one sided record with this screen on the b-side. Kinda boring, kinda predictable if you ask me. This band is far from satanic or whatever. Not digging at all, especially when Virgin Witch (a much better band I may add) did
this
with their one sided 7" over 12 months ago.