After 19 months of waiting I've recieved the Rot In Hell/Integrity split double 7". I think most who read this blog should know the story with the delay of this EP, so I won't bitch any further. A few variants were pressed by Thirty Days Of Nights Records. From what I've read on a few other chaps blogs, there exists this standard press of 500 on a
green
and
blue
smudge, along with a more limited black version of 100 and then a band variant on white vinyl of 100. When I initially ordered this 7" back in something like February of 2010 I missed the black version by possibly no more than 20 minutes from what I can tell.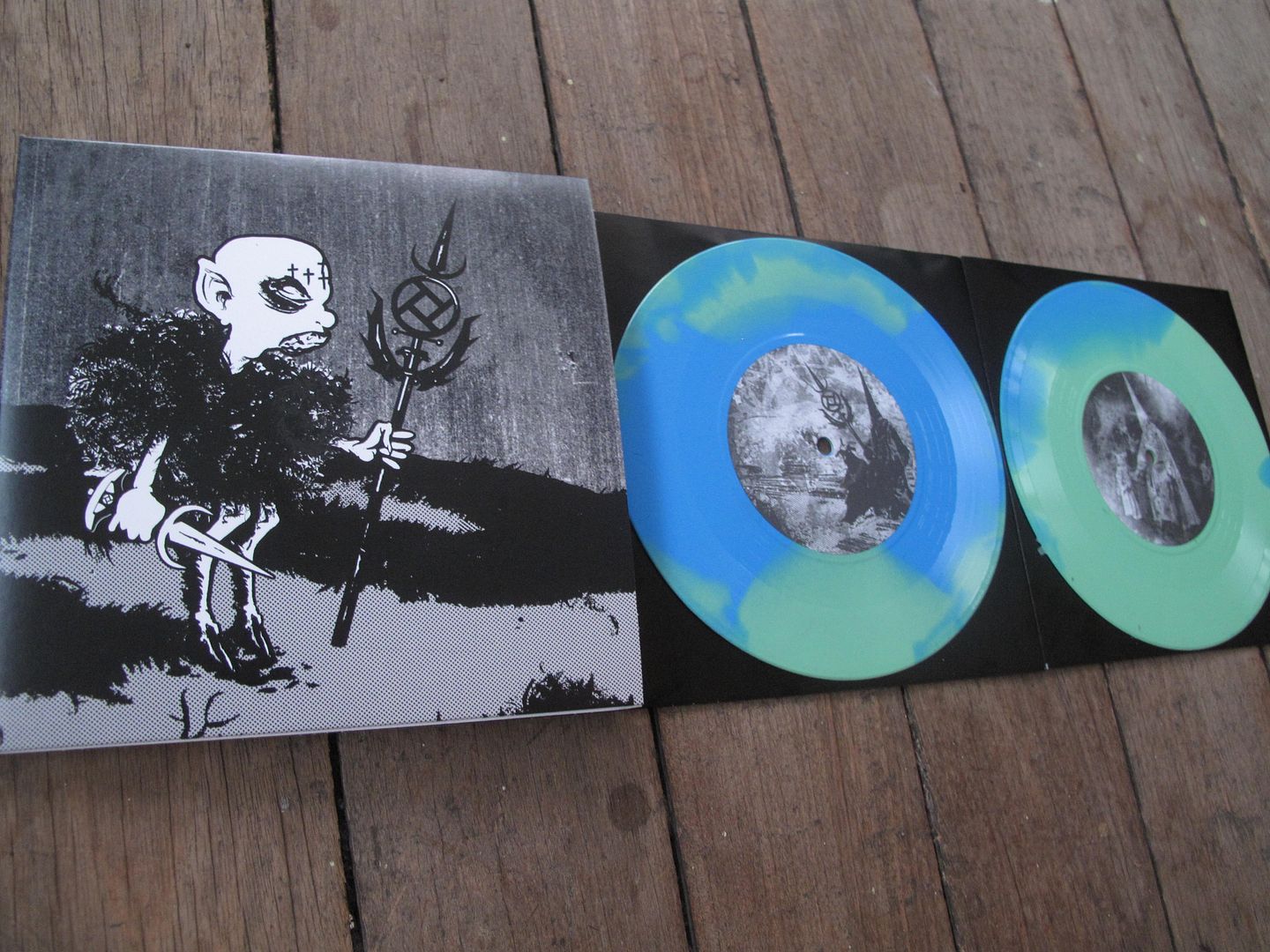 Anyway, though this is a relatively old recording in the scheme of the actual RIH discography, this marks the final recorded output by the original RIH line up. Future releases will feature a new singer and new guitarist. Two songs feature here on the one side of the first record, the first "Erebus" is a pretty standard fare RIH number, jumps back and forth between slower and higher tempos, features a lot of good leads over a heavy crunch, all pinned down by fantastic holy terror styled vocals. The second track "Life Becomes A Desert Around You" is another one of those folky acoustic numbers much like the last one they did on the split with Horders. Minus the cool singing.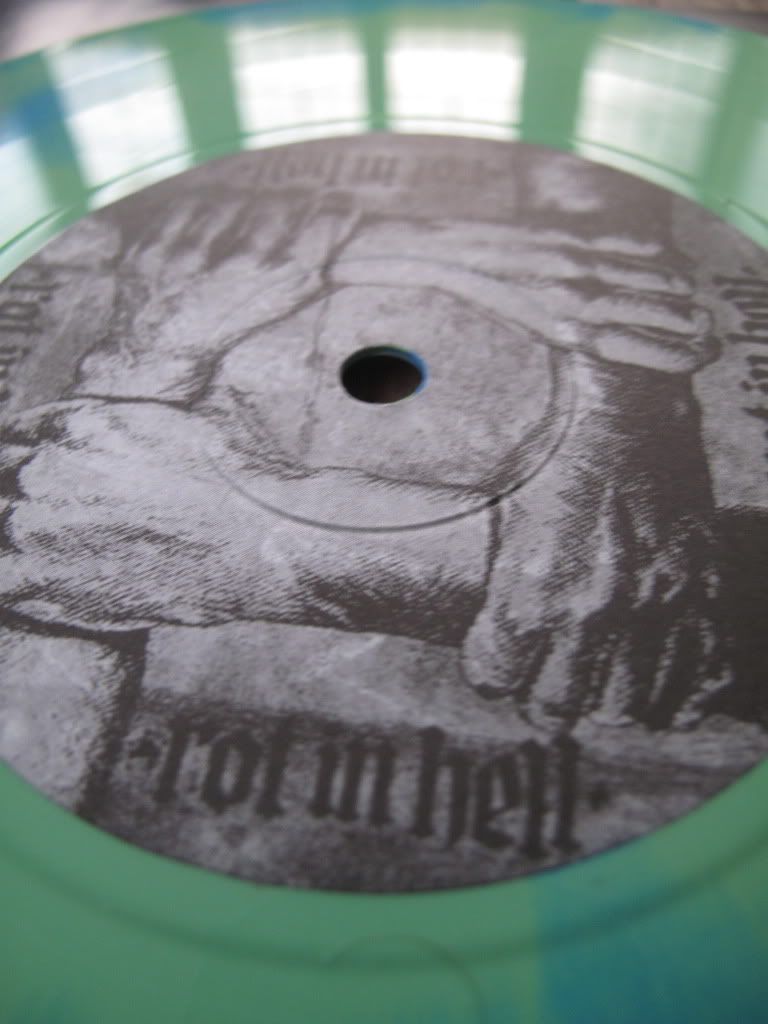 Flip the record and you get two Integrity songs. Again, much like a heap of their more recent output, though I read somewhere that these aren't overly new and have seen some kind of official release somewhere else in the last 18 months or so.
Now the second platter is where things get slightly different. The A side of the record consists of Dwid speaking in a low tone over a noisy, 'eery' backing soundtrack. I can't really make out what he's saying but I gather it's some kind of narration. The B side is much the same, beginning with a short acoustic piece that progresses into more noise and what sounds like some sample of a military style 2 way radio transmission.
I heard somewhere at some point that this record was so heavily delayed because of this included booklet that you get. A gatefold sleeve houses the two records, along with this fixed, glossy booklet that contains various artworks drawn by Dwid. I think that the art here is supposed to tie in with Dwids narration on the second 7".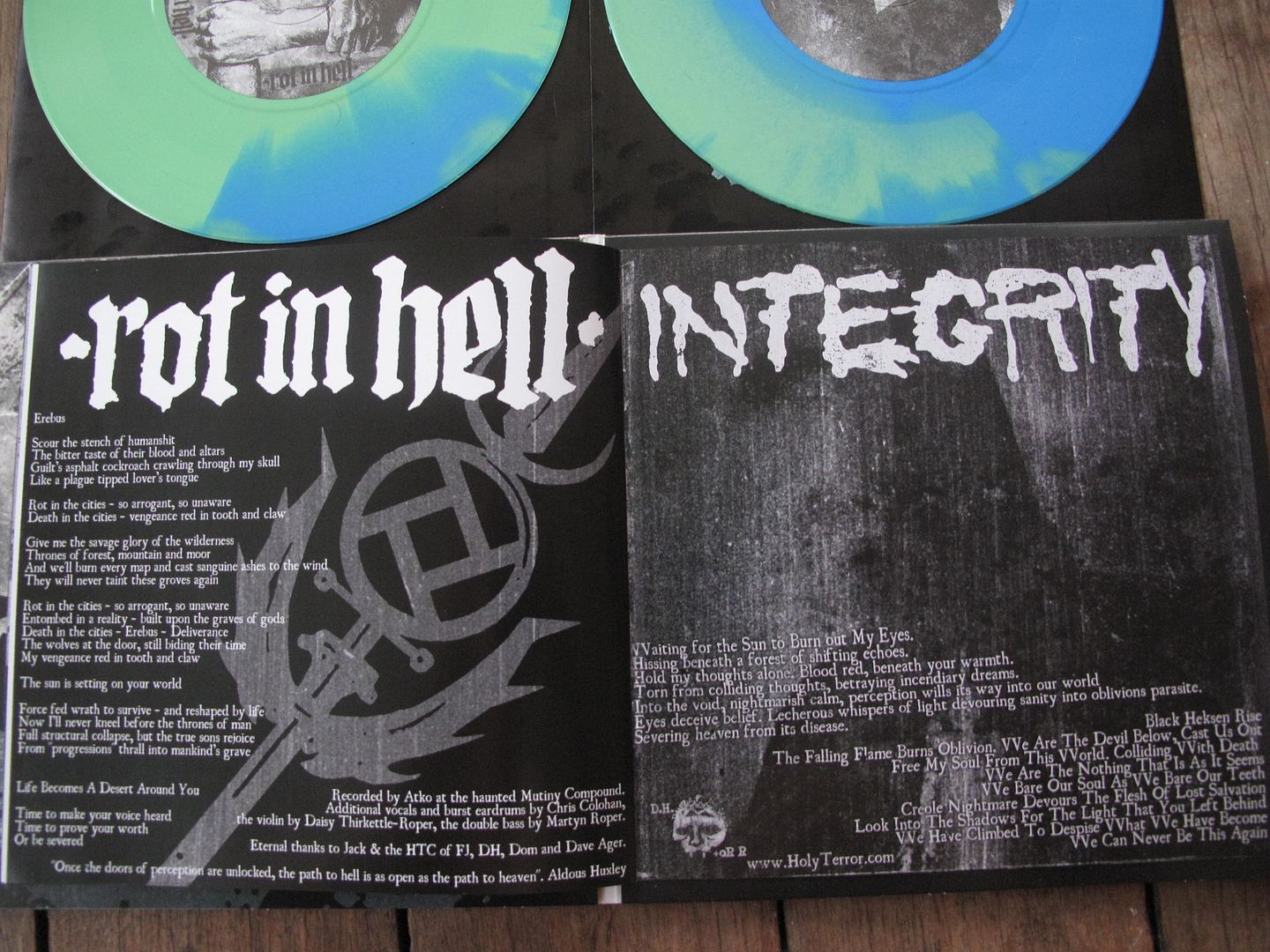 Also in the package comes a handful or stickers and a cloth patch.
Eh, I don't really think it was worth the wait regardless of how epic the packaging is. Good enough though just for RIH.