Sometimes I honestly don't know why I blog. This post took so much work to get done. I use photobucket to host my photos (so I can make them larger, the large option with blogger is shit small), which means that I have to do alot of fucking around. Not to mention that moving around this many photos into the right order using the HTML mode is an extreme head fuck. I have square eyes after this, but I like it. Get comfortable...
First up, the limited cover of the Extortion/Septic Surge split 7". Fellow Aussie guys have already posted in length about this record, so I doubt I need to go into length about it. I assume it's just another way for Sandro and crew at RSR to get rid of some excess stock. I did hear somewhere that this was the second press though? There's nothing to indicate that it is anywhere on the record or sleeve. Black vinyl.

Numbered. Is that an '11'? I can't quite tell.
The second press of the Aerosols s/t LP out on Youth Attack Records. Mysterious guy hardcore represent. I've heard these guys described as PV of all things, though to me it's just noisy, messy hardcore. Typical of that Youth Attack roster at the moment. Killer stuff none the less.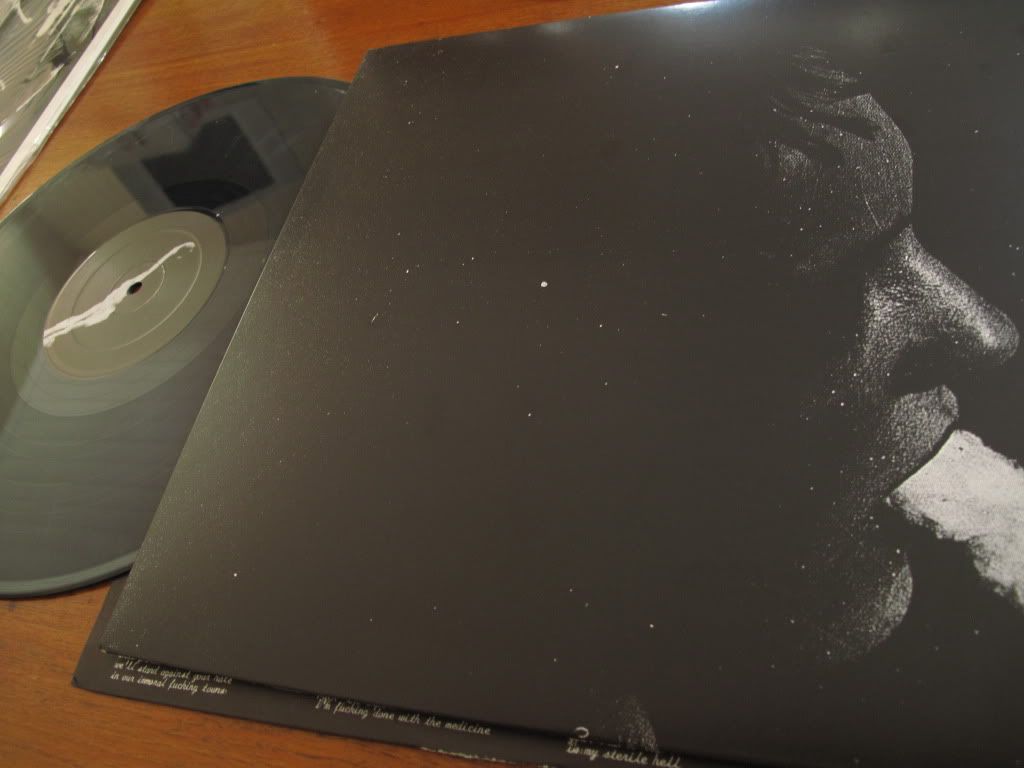 Kinda of a dark, dark (almost black) blue wax with white smudge through it.
It came packaged with the bands fourth 7" aswell. Pretty sure it's all from the same recording session. Most of the bands catalogue has a very similar mix.

More second press Youth Attack stuff... the Cult Ritual LP. I love this band. Just more noisy, messed up hardcore with mid-west touches and alot of 'My War' era Black Flag tribute. This LP is a ripper, but I'll admit that their ep's are better.

Pink
wax, it came with a large fold out poster as the liner notes.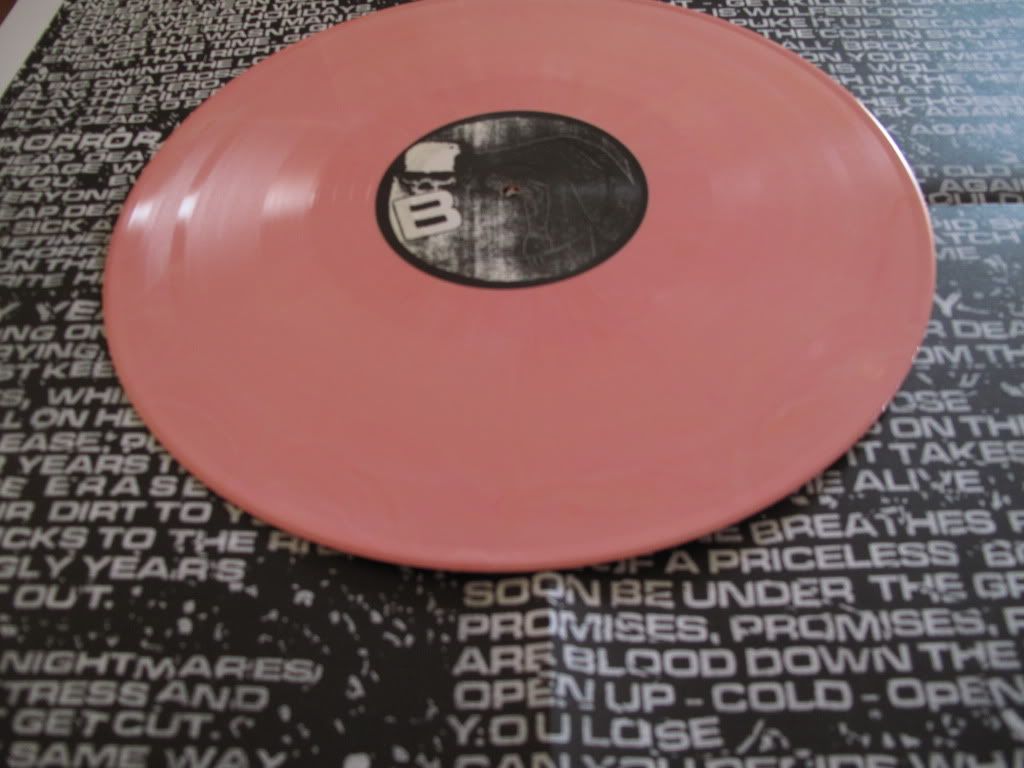 The Virgin Witch one sided single out on Free Cake. Took me a little too long to get my hands on this 7", and I'm glad to finally have it in my collection. Two songs. One's a 3.14 minute dirge fest. Just slow, discordant metal with heaps of feedback and crazy shrieks, then it breaks into a pretty up tempo little number for the second track. I am really excited to see where these guys go with the next stuff.
Grey
and black smudge vinyl.

One sided with this two layer screen print on the b side.
Another Free Cake release, the Mature Situations 'Cracked Pelvis' 7". From what I've heard Colohan has something to do with this band? I'm not totally sure though. Just fast, pissy hardcore from Canada totally built around themes of senility. Lyrics, artwork, song titles, the whole bit. It's entertaining, but how long can a band continue of with shit like this? Time will tell.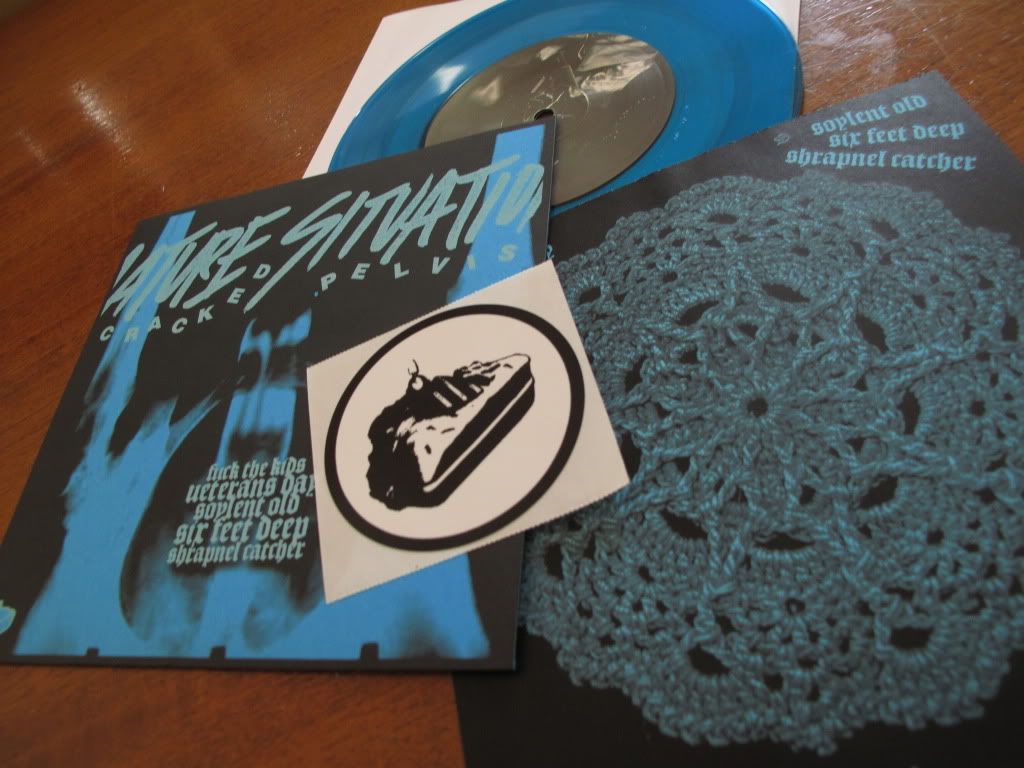 Now I have two copies of both this record, and the Virgin Witch ep. Long story short, I ordered a copy of each from Free Cake themselves months and months ago and they never showed up. I even emailed Free Cake about it, but they never replied. I assumed it wasn't coming, so I ordered both of the records from RevHQ instead. Of course both packages showed up within a week of each other, the Free Cake package dated to be sent out about a week prior. Annoying to say the least? Had the label just replied to my email, I wouldn't have ordered subsequent copies, and I wouldn't need to be flogging them on here. $10 each plus postage fuckers. Get at me.

Youth Attack Records second presses and I seem to be quite into each other. I have raved on about Nazi Dust, so here's their debut 7" on second press
green
wax.

More weird guy stuff from Florida, this is the 'Fuck Off Away From Me / Shit Gait' single by Slavescene. Pressed by Deranged Records on
blue
vinyl. They sound like Void fucked the F.U.'s

The reissue of the 'Severed Survival' LP by Autopsy on Peaceville Records. This is a classic hands down, and I kinda just stumbled upon it at my local. Snatched up.

Blue

wax.

Massive poster insert. How good is that artwork?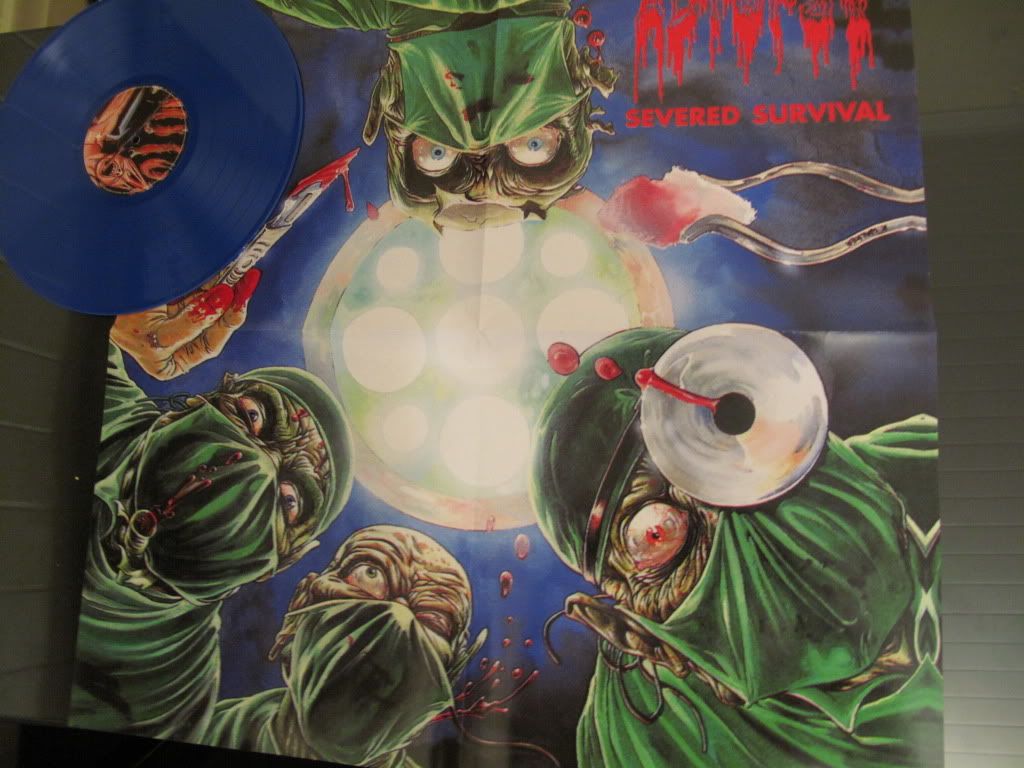 Gatefold sleeve, with what you'd expect on the inside: a collage of photos and art etc. This is undoubtedly a great record, but I think it's fair to say that 'Mental Funeral' LP cannot be topped. I'll have to get my hands on that one certainly.

Probably my favourite arwork of any record in this post, I finally own the Black Breath MLP, 'Razor To Oblivion'. Black vinyl. This release is fucking great Motorhead worship. I'm a slave to anything with Motorhead or Sabbath riffs. I have the digital of the bands new album, and without giving too much away, I will tell you that they have progressed a great deal since this record. Still working with the Motorhead styled riffage, but also using a heap of euro death metal ala Autopsy, At The Gates and early Entombed. Even later Entombed too.

Don't think I need to go into too much depth about Government Warning? Everyone seems to be into this band, though I'm only just really starting to dig them now. Little late to the party I know. The second best band on No Way I'd say, behind Life Trap. This is their latest LP 'Paranoid Mess' on black plastic.

Rumours of an Australian tour this year.
And their 'Executed' single.
More No Way stuff, the Socal Circkle 'City Shock' LP. More black vinyl. They sound a heap like Black Flag with a little of the Adolescents or something. Fast, snotty, good. They can't spell though.

Fellow blogger Thomo inadvertently turned me onto Nightstick Justice when he posted about them a while back. Good, Boston kind of stuff. Fast, tough, to the point. I stumbled upon their s/t LP at a distro at a show recently.

Also nabbed their 'Mindless Violence' 7". More of the same. Good, hard, fast. I've also got their other records on the way, though they are taking a little too long to arrive.

I loved this bands first album. 'Unhallowed' by The Black Dahlia Murder was a perfect execution of that mid 90's classic melodic european death metal ala At The Gates etc. That album is flawless, and I have the vinyl for it. So when I spotted this 'Deflorate' gatefold LP I had to grab it, even if I'm not into the bands later stuff.

Blue vinyl, with some crazy smudge shit through it. I'm not really into crazy colours like this, but it is Metal Blade Records, so I'm not surprised.

The new Nails album 'Unsilent Death'. Six Feet Under Records. Unsilent isn't even a word. This is Todd Jones or whatever's new little solo thing. I'm pretty sure that I've talked about this band before. It sounds like Trap Them except not as good. I don't take this band as seriously as I should I don't think. Mid rate material, it's barely 10 minutes in length, just like his last 'LP'.

Eh, I rip too hard on it. It is okay. It's fast, heavy as fuck and just dripping in the normal kind of shit that I like. I think I just can't get into it cause it's Todd Jones, the dude who's been in so many bands I hate. Whatever.

Wow, punch yourself in the head, Skeletonwitch! Can't believe I've slept on this band for as long as I have. I haven't been this excited about a more 'mainstream' metal band in years. Crazy good thrash metal from the states. This is their demo 10". This is the first stuff I heard from the band, so I had to grab it. They've also got two great LP's. Looks like I'll have to get my hands on said albums.

Black wax, Prosthetic Records also did a few other cool colours.
I only really liked the first Cursed album, and even then I didn't like it that much. I grabbed this though, the bands last 7", the live one or whatever. It's cool, but there isn't much to it: it's four live tracks.

Local band Headaches demo tape. I'm not even really that into this kind of stuff (Good Riddance, H20 worship etc), but I grabbed it anyway. And it's not too bad at all.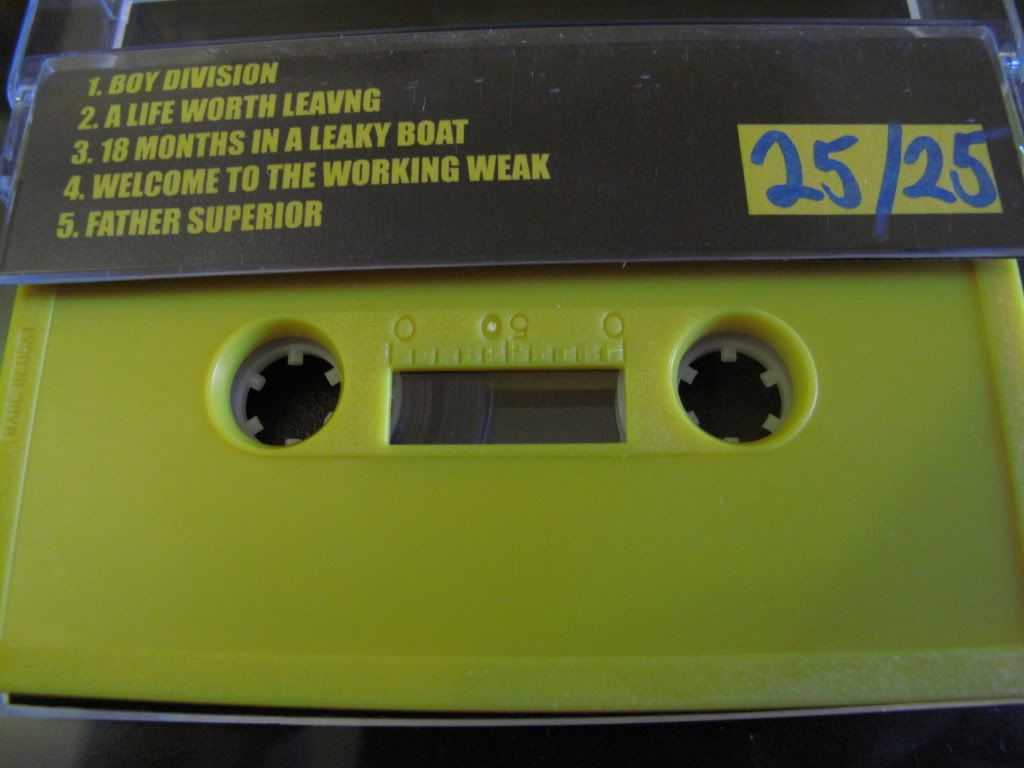 I won this little ditty on eBay. It's not the first ep design, but this Knife Fight shirt will do. Landed it for something like $10 including postage. Pretty sure it was Dobek from Crucial Times selling it.

Canberra's I Exist were up here touring a couple weeks back. I needed a singlet for the gym, I grabbed this.

And last but not least, new Perth zine Freedom Is Free. It's not too bad. It has quite a minimalist approach, with deliberately simple layouts etc. I like that idea. Interviews with Suffer and Extortion amongst a few others. The interviews are a little too simple, but I like where this thing is going. The editor seems to have good taste in music.

And there you fucking go. Quite possibly the largest post I have ever made. Now go outside and get some sun.