I was greeted today by the following shits...
Extortion/Septic Surge split on
blue
on RSR. I think it exists on black too. I'm gonna have to get it. I'm almost positive that the Extortion stuff is B-sides from the Control ep, as one song from that 7", Useless, is on here again, along with three other songs that have the exact same mix. The liner also credits the tracks as recorded in 2006, the same year that Control came out. So yeah, safe bet. The
Septic Surge
stuff is a little old too. If memory serves, they recorded this stuff early last year for a 7" that never happened, then they hooked up with Extortion, and decided to use it here instead. Apparently they have a whole new batch of songs ready for a new record. For those unfamiliar: pretty much the only band in Aus doing precise Skull worship. Rohan's artwork on the Extortion side obviously, and
Murdochs
on the SS side.

Extortion/Jed Whitey split 7" on black. Long time Extortion fans should know all about this record, it's been in the pipeline for just about four years now, Jed Whitey had just been too lazy/busy/otherwise occupied to get stuff recorded for it. Well they finally got stuff together at the end of last year, and here is the result. To be honest, I'm no huge fan of the JW take on punk rock, but I know alot of people do like them. The Extortion stuff here is from the recording sessions of the very first 7". Rough just like those early recordings. DX put this one out through
Distort
, this is officially Distort issue 25. I grabbed these two Extortion records from Rohan, but I do subscribe to Distort, so I do have another copy of this on the way, it's just that DX has apparently been quite busy, so he needs some more time to get the mailing done, I just couldn't wait. For sale soon: a copy of the EX/JW split 7". Get your bids on now. Oh by the way, new Extortion 10" due this year entitled "Loose Screws" with guest vox from BARNEY GREENWAY.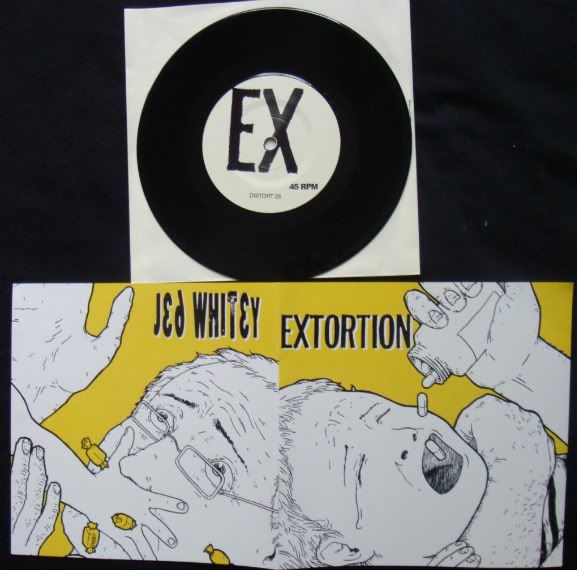 Downpresser- Age Of Ignorance 7" on

red

from Triple B Records. I love this band. Great NY styled mosh. If you read this blog regularly you already know that though. I can't decide if I like this one or their first ep more.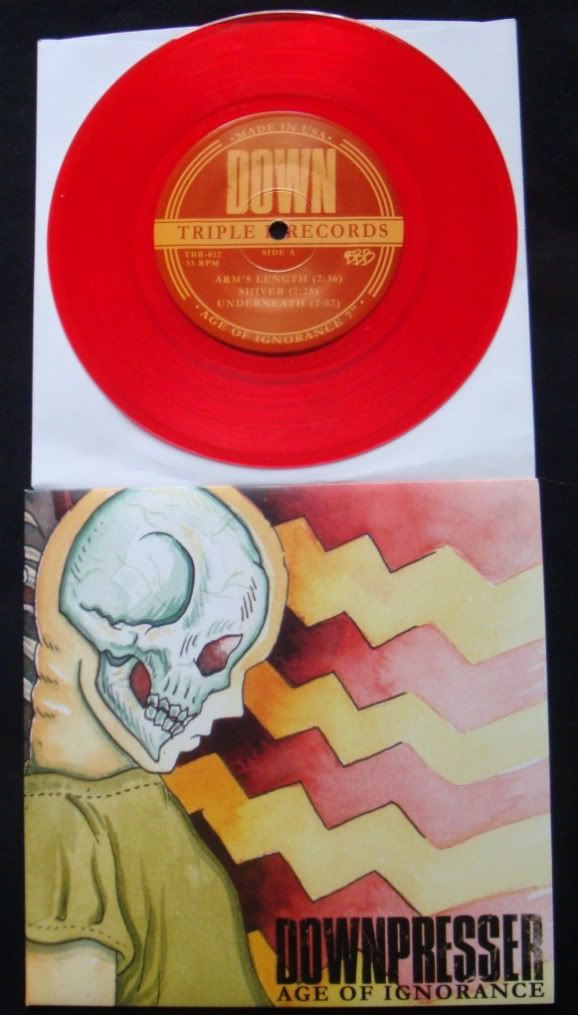 Disnihil- Future Cancers 7" on

red

through Lifeline Records. I saw these guys play when I was in Chicago back in May and I was impressed. That night I had the chance to pick up this record, but for some reason (I think I was budgeting hard at that stage), I didn't manage to grab it. Well I was doing a spot of shopping in an online store recently, when this came up, so I grabbed it. Great D-beat from dudes who don't stink of urine. Someone sell me their first ep.